Joined

Dec 5, 2019
Messages

137
Just recently I came back from Brazil for emergency visit , planned to stay there 2-3 weeks, it became 2 months.
End of May my husband went to Brazil for a project but after 2 weeks there , this was 1st of June he had stroke and I had to fly to Sao Paolo asap, the problem was that my passport was due for extension and actually was under process. I've paid it and got the appointment for photo and interview on 29 June.
Panic mode on!.
I called the immigration and asked if possible to bring forward the appointment because of family matter, he told me to contact the immigration I picked for interview, so came to this immigration office and I asked if I could have quick emergency passport and pay extra, he said no.. Maaf bu, kalo mundur bisa, maju tidak bisa!... ooh ffffff !!!!
Then I called my agent to see the possibilities. She came back to me that I can have same day passport for 2,2jt. I know its costly but I need it , so I submitted all docs on Friday morning , sitting nicely waited for my number to be called BUT because at 11 am they're all gone for Juma'tan, my docs was not done, I had to come back at 1pm , which mean my passport will only be ready on Monday , another delay.
Finally I got my passport on Monday at 4pm. Couldn't get decent flight to Sao Paolo, many of them fly via USA, which I could not do as I need a US transit visa. The only options were Qatar and Emirates. After searching skyscanner, I found Emirates ticket for Monday 13 June the following week with 8 hours transit in Dubai, but wtf I do for 8 hours , I was thinking to book the capsule hotel in Dubai but then its only for sleeping, no food no drink, so forget it. I didn't book anything at the end
I checked in online so all I need is to drop the bag and get proper boarding passes. all went smooth. 9hours later I was in Dubai on my own, like lost chimp lol.
Wandered around looking for lounges, they were all expensive , and has time limit in it. Then I opened Flio apps, from there I get Euro 39.9 for 6 hours, nice foods, sofa bed with pillow and blanket Slept for 3 hours in this place.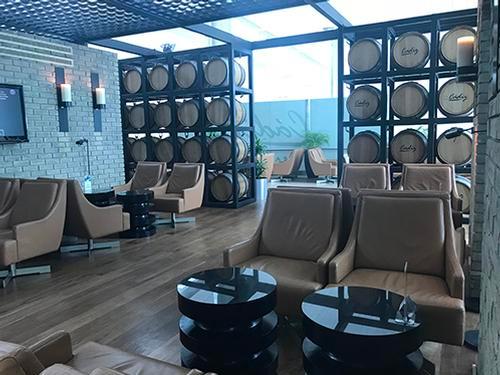 Ahlan Lounge at B lounge Dubai Intl Terminal 3 Concourse B. All the info about the lounge: location, opening hours, conditions and facilities.
www.prioritypass.com
My next flight to Sao Paolo take 14.5 hours ( A380 ) so wasn't so bad then domestic flight to Navegantes then to Gaspar where hubby was.
When I arrived in Sao Paolo, they only checked for vacs certificate ( WHO version) and I got 30 days visa stamp. By that time hubby was already out from hospital, and surprised, he joined the driver to pick me up.. with limping walk.
2 weeks has passed, his BP went up again, so we visited Cardiologist and he changed his prescription and then 4 days later we went to see Neurologist. The project was delayed and no one was coming to replace him, so I had to stay and babysit until the project was done. The Brazilian workers were sooo sloww.. nothing get done in time. so everything delayed and delayed, was planning to fly early July ( before 14th) .. not a chance!
Luckily I've met Indonesian Consulate who helped me to sort out my visa extension, we went to Federal Police, they granted 30 days extra .
We were trying to get the tickets home since mid July , all the flights were full ..Qatar was like $4500 one way.. so we waited and waited and finally got Qatar tickets for 7 August. In the last one week we relocated to Blumenau ( German town).
All flights were smooth, lounge access in Doha.
when we arrived in CGK, all you need to scan the peduli lindungi, before entering the fence, then at the immigration counter, they asked me "where is your ticket? .. wtf. I was coming home, why they need to see my ticket. .weird!
Waited ages for baggage, when finally out I asked the transport guy who stands in the middle of hall offering taxi . Mas, Pesan Grab dimana? , I know that I used to get GrabCar from top floor of parking lot, because I wasn't sure if its still there. He replied' Grab nggak ada disini, adanya di terminal 1" .. Liar!!
We walked straight toward carpark building and the Grab guy were there. so I booked the car and waited in there. done 350rb to Cibubur.
7 PM , 9 August .Home sweet home.